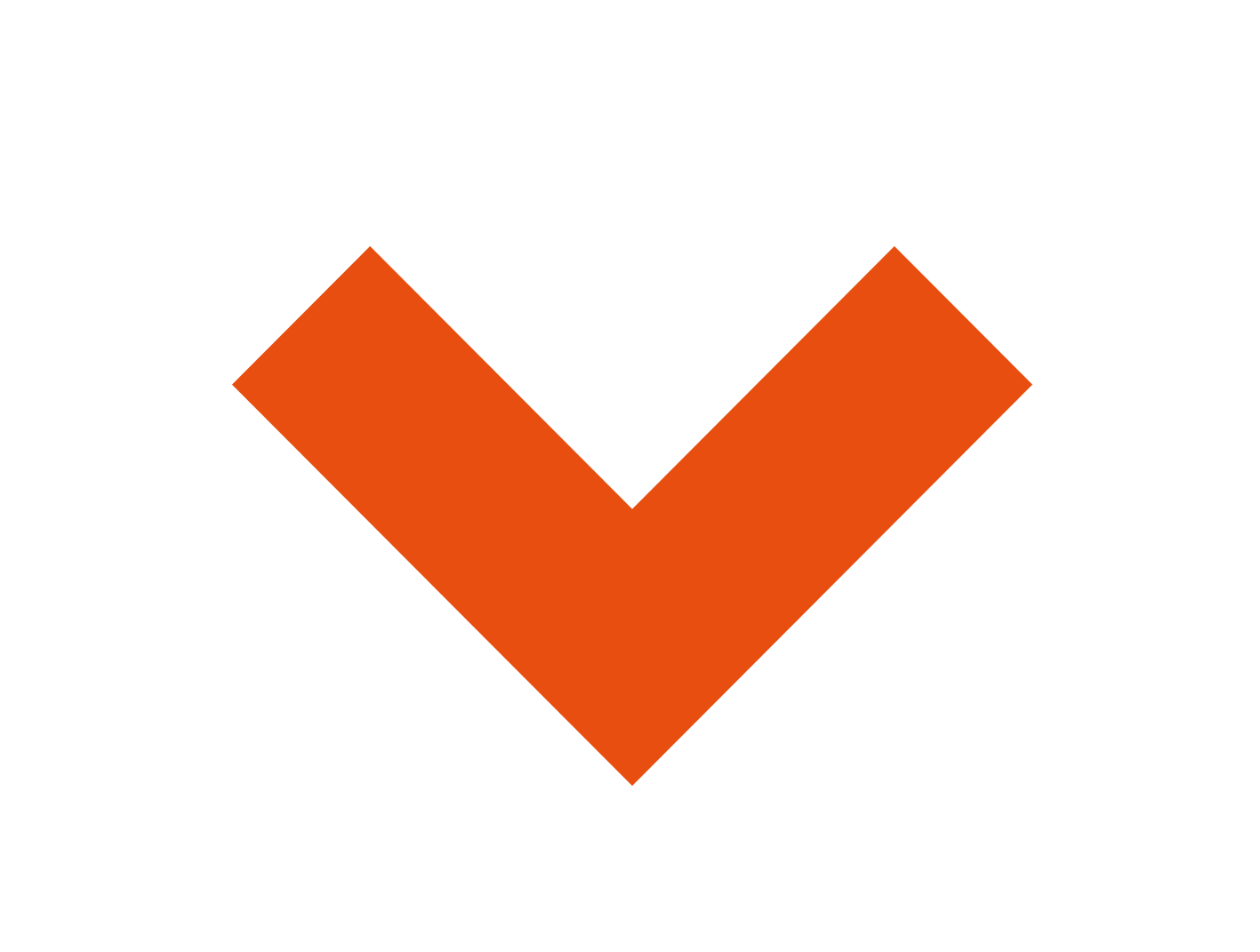 ---
On Monday, March 28 ACCEZ and RASL hosted a new edition of their "Parade through a circular neighbourhood" in an international context. As part of the UNESCO conference "Impactful Actions for a Sustainable Future through Art & Science" we view the circular development of the Binckhorst through the collaborative lens of arts and sciences. Four artist-researchers and experts share their unique view in this online exhibition, this time with an international audience.
---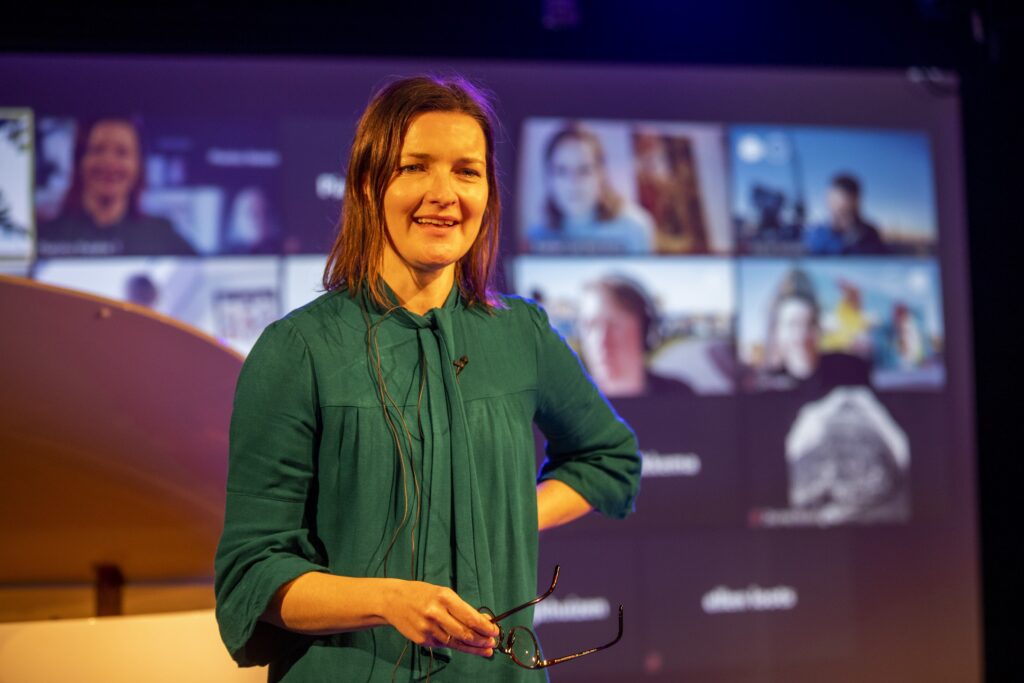 Live from Pianino Theater in the Binckhorst, our hosts Judith Schueler (director of ACCEZ), Ellen Loots and Amanda Brandellero (RASL, Erasmus University Rotterdam), introduce us to the synergy of arts and sciences on the circular battlefield. "Holistic circularity," they tell us, "goes beyond the technical and practical. It is a societal discussion we must all have together: what does circularity mean to each of us? How does it take shape?" This is precisely what the four projects at the heart of the parade aim to figure out. In different group sessions, the artists share all that the Binckhorst has to offer: products, stories, sounds and images. We invite everyone to take a look, listen, imagine and think.
Marleen Buizer (Wageningen University & Research): Postcards from a circular neighbourhood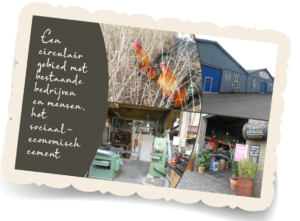 The story of the Binckhorst is one of connectedness and creativity. On the graveyards of old industry, new circular inventions are taking place. At the same time, it's a place that is subject to a lot of development decisions – decisions which do not always include the great value these creative, circular solutions already provide. Through 'postcards' from developing or transforming areas, researcher Marleen Buizer shows the Binckhorst's function as social cement: a circular society hub where creatives roam freely. But, if development decisions keep being made in the same way they are today, the question remains: for how long will this stay the case?
Josué Amador (RASL, Codarts Rotterdam): Soundscapes of circularity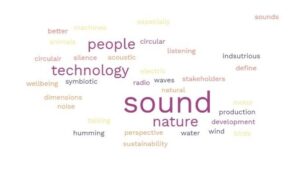 "90% of the information our brain processes is visually informed," Josué Amador tells us. "So, introducing my audience to auditory awareness – intently listening, with our eyes closed – is a way to re-discover the world around us and our position in it." This central thought drove the musical artist to create soundscapes within the dynamic environment of the Binckhorst. With this different perspective, he asks the audience to reflect and share their thoughts on circular area development, by bringing attention to the nature and meaning of the acoustic environment. Have a listen yourself (close your eyes!):
Irmgard Bomers (I'M BINCK): the Binckhorst Beings and participatory interventions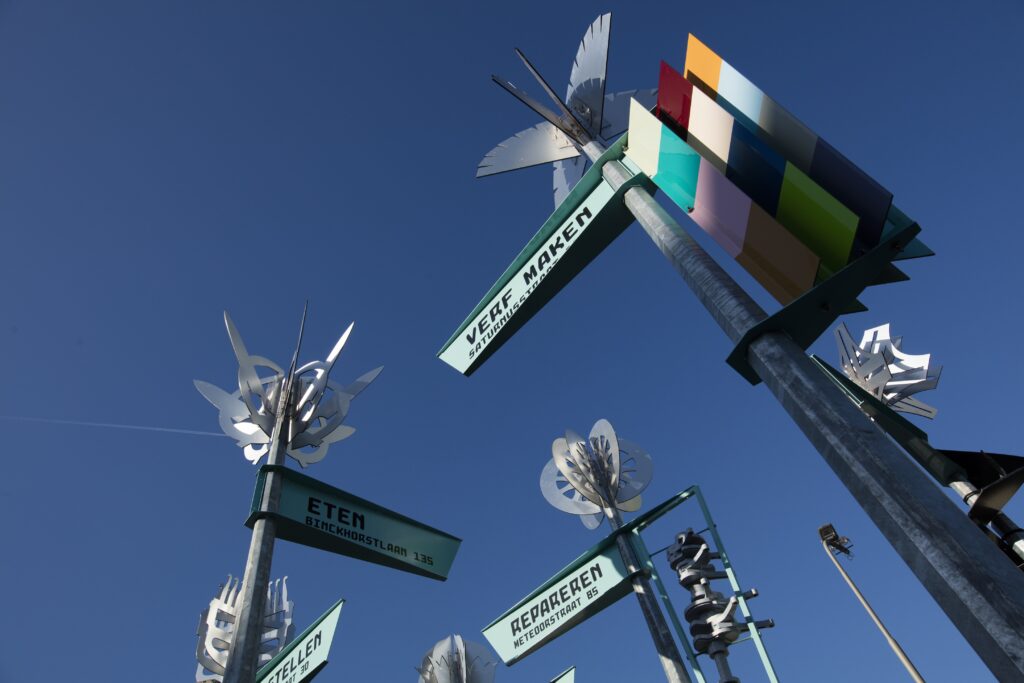 These colourful and striking signposts are products of their own environment. The 'Beings' were conceptualized, designed, manufactured, permitted and placed, all by people with an active stake in the Binckhorst: artists, researchers, builders and planners. In other words, all parties have a shared ownership of the end product. "Successful participatory interventions start by showing ownership," says Irmgard Bomers. This idea of shared ownership creates equality between stakeholders when coming up with solutions for circularity and allows for new, barrier-breaking co-operations.
Ulrike Hahn (Erasmus University Rotterdam): Visual representations of circularity
Circularity can be a vague concept to deal with, but nevertheless we have very strong associations with it. For visual artist Ulrike Hahn, this starts with a blank canvas: When we imagine circularity, what do we see? And linearity, for that matter? Working on these preconceptions, she designed several works of art illustrating the visual experience of circularity. Ulrike: "I want to allow the audience to see circular area development through a different lens than what we are used to. And to connect this visual experience to the impressions of the other artistic sessions as well."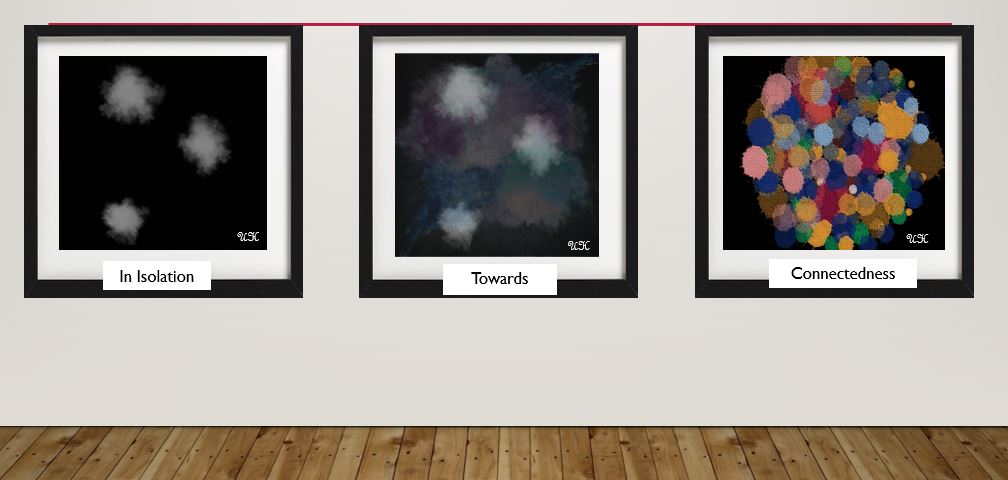 Reflections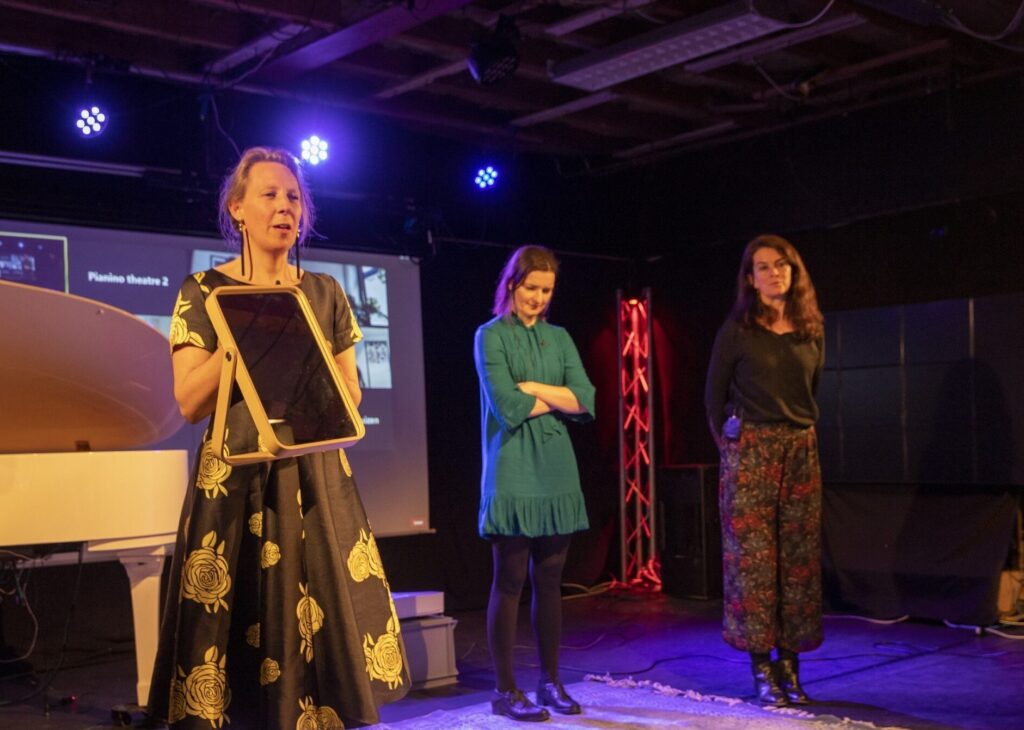 At the close of the parade, the hosts take some time to let the artist impressions sink in. We briefly consider the thoughts and reflections of participants, as they interact with circular area development in a new way. As we look into the future of the Binckhorst and other communities focusing on circularity, participants share how they envision the way it's connected, the way it operates, and what to include in its development. Director Judith Schueler leaves us with a final thought on balance in circularity: If we all want to participate in the circular economy of the future, what role does our own activity play in the grand scheme of things?